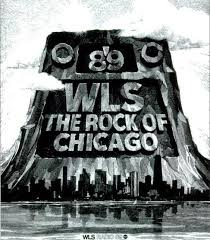 WLS signed on in 1924…long before there was any rock to roll.
After the lunch meeting in Chicago with WLS Program Director Mike McCormick and Paul Abrams, a General Manager I would learn was a cousin of Satan, I knew there was no chance I would pass on an opportunity to wake up Chicago on The Big 89.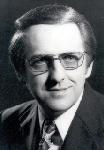 It would turn out to be a huge adjustment for me after all the time with Drake and RKO. WLS was owned by ABC…and it was operated in an entirely different way! For one thing, the commercial load was really heavy and we ran ABC network news plus local news every hour…along with Paul Harvey and the ever-charming Howard Cosell. (Howard once said, "The only person at ABC who makes more than me is Paul Harvey…and he deserves it.")
I never did learn who brought me to the attention of WLS management, but I suspect it was Rick Sklar, Program Director at WABC in New York. The GM had enormous respect for Sklar, who also had a big impact on WLS at that time.
Rick had offered me a position at WABC twice, but neither was a good fit for where I was at the time. So, it seems that this was his way to help ABC make an offer than nobody could refuse.
McCormick's Assistant Program Director was Tommy Edwards, who later was PD himself and was "Little Tommy" when he and Larry Lujack presented "Animal Stories." Tommy is a real talent.
Tommy had worked for RKO previously and I really liked him. So, we had some past history in common.
The signal of this 50,000 watt clear channel giant was well known.
That map doesn't begin to tell the story. In the dark, WLS routinely pounded into 38 states. My Mom could listen in the pre-dawn hours in Dallas and the station was louder in Big D than local stations. It was, simply, a monster signal.
In fact one morning, I received a call from the tower at O'Hare airport. A charter flight with Chicago passengers on board was calling. The tower made the connection with the pilot.
The Captain told me that he was about to wake the passengers for breakfast and wanted me to dedicate a song to the flight. He was going to pipe WLS into the cabin. I agreed. Then he said, "Well, don't you want to know where we are?" Oh, sure. His answer was "32 thousand feet over Iceland!" I made the dedication!
Waiting for my apartment to be ready, the station put me up at 40 East Oak, advertised as "vintage apartments." Were they ever! Really old and the place smelled like leaking gas. I woke up for my first morning with a pounding headache. Not a great start.
Fortunately, my apartment was soon available and I settled in to Lake Point Tower with awesome views of the Chicago skyline. My place was high enough up that occasionally, I was looking out above the clouds..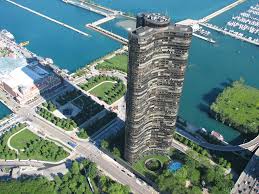 While the amount of news was pretty high in the morning, it was not a problem at WLS. Our news team was anchored by two incredible journalists.
Gill Gross and Lyle Dean were both sensational!
These guys brought their "A Game" to every newscast, every morning.
You may have heard Gil elsewhere and as a regular substitute for Paul Harvey. He also moved on to San Francisco as a talk show host on KGO. Both were top-tier talent and great to work with!
The way the studio at WLS was set up, Gil and I sat side by side when he aired the news. One morning, Gil reached over to grab the weather forecast that was on my side of the desk as he moved into the weather segment. His hand accidentally hit my coffee cup, dumping the drink into my crotch. With 50,000 watts of full power, we both just lost it on air.
PD McCormick demanded to see us both in his office. Mike said, "If this ever happens again, you are both fired!" Gil and I both said, "Then, just fire us now. We pray for times like that on the air." That was the end of the meeting and Gil and I enjoyed coffee together the next morning. By the way, McCormick's official title was Director of Program Operations.He signed his memos as "DOPO." We took that to mean "Dope-Oh."
The station was then located in The Stone Container Building at the corner of Michigan and Wacker at the edge of the Chicago River.
Years later when visiting Chicago, I looked back and remembered.
I can't begin to describe how cold it was on many Winter mornings, standing by the locked ground-floor entrance at 4AM, waiting for a sleeping night guard to finally hear the buzzer and open up the door to allow entrance!
WLS wasn't a glamorous facility. But some pretty powerful radio came from that studio.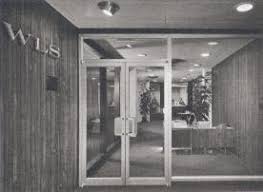 The engineering set up was different also. There were many unions involved, AFTRA, NABET, IBEW, and the musicians union. WLS had musicians on staff in years gone by and some of them still remained. Only they could actually cue and play a record as "record turners." Since everything was now on cart, there was little for them to do so one of them picked up the mail each day.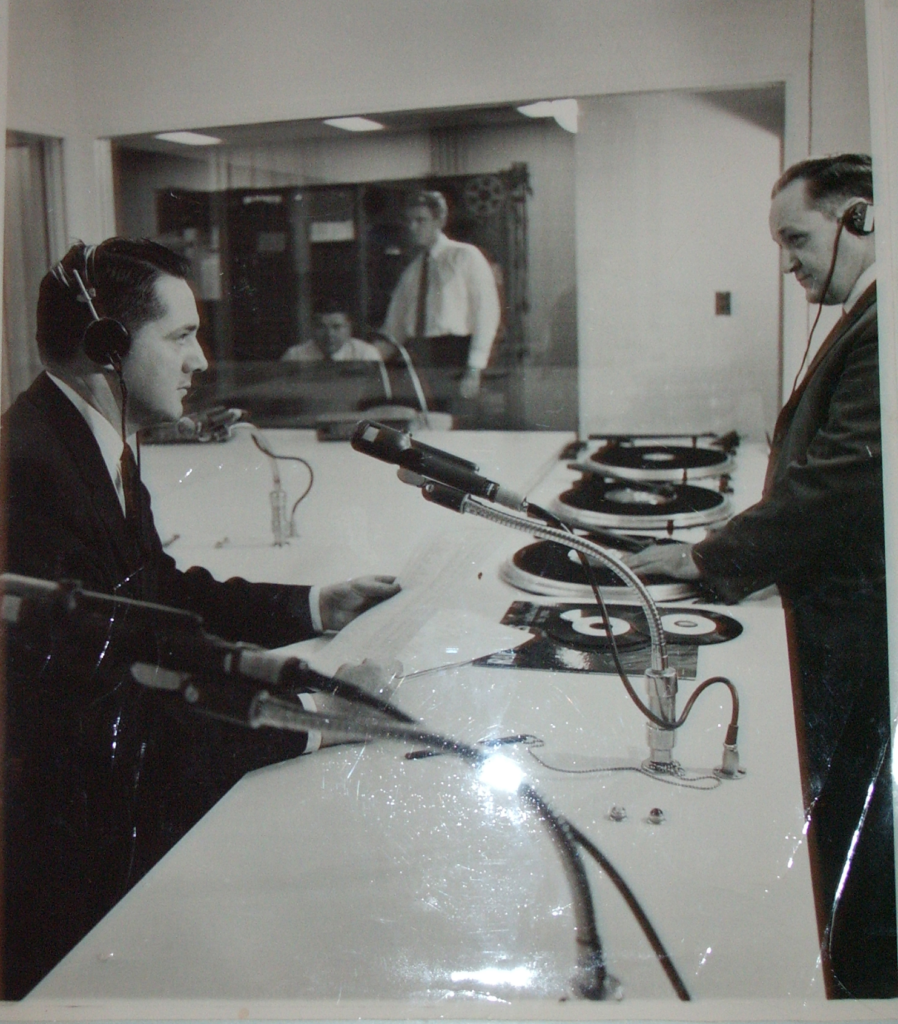 The engineer's control room was "adequate" even if pretty ancient. DJs could not open their own microphones. We cued the engineer to open and close the mic with hand signals.
On my first morning, I settled in and moved the mic to a comfortable position. The engineer hit the talk back. "Touch that mic one more time and I'll file a grievance!" (So, THATS how it's going to be…OK)
Some of the engineers were horrible. Luckily, there were a few who made up for the rest.
Al Rosen occasionally ran the board masterfully and was a terrific production guy also.
Al also worked at WABC and often helped Dan Ingram sound great. Al's promos were exceptional and his personality made him great fun to work with.
A more recent shot of Al (in the middle) with Bob Sirott (l) and John Records Landecker (r)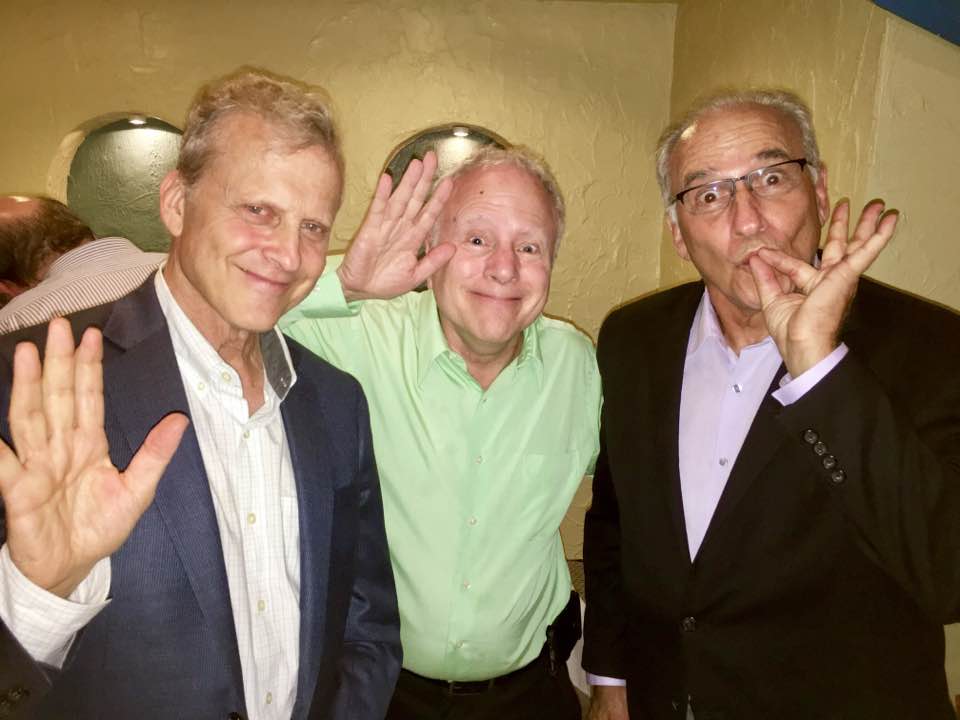 Al was a smart guy and married the lovely lady he met in the programming department at WLS, the love of his life, Judy.
A great part about WLS was the air staff. Wow, were these guys good.
The back row is Dick Sainte, Chuck Knapp, Fred Winston, me, and J.J. Jeffrey. In front, it's Bill Bailey and John Records Landecker. Chuck and J.J. had previously worked at WRKO, so they had a bit of Drake blood too. These guys were "off the hook" and really fun to hear.
We went out in the community fairly often.
Here, we got involved with a frisbee tournament in a Chicago park.
I enjoyed all the guys. But Landecker and I became like brothers.
John and I had lunch at the Chicago Playboy Club often (maybe too often). Lots of weekend party time as we kind of rotated hosting each other.
A little later, Bob Sirott joined the team. (You might've later seen him on network television,) He has just returned to the air in Chicago in mornings on WGN Radio. He's a real talent.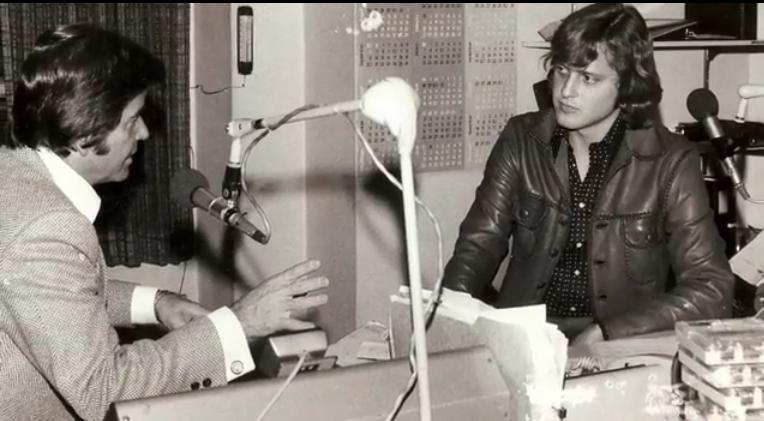 Overnights were eventually graced by the first female DJ on WLS, Yvonne Daniels. She was a talented and gracious lady.
While it was a unique and unrepeatable time in my life, the weather was hard for me to handle. Winters were often brutal.
I found myself wearing down from the stress with an extremely difficult (OK, miserable) General Manager. And the on air "style" that seemed to work best in Chicago was quite different from everything I had learned before. It was a great time, but I was not a perfect fit and I knew it.
At the right time, the phone rang with an offer to return to KHJ…for mornings. Yes, Paul Drew was KHJ PD at that time…so I hesitated briefly. But KHJ was a game I knew how to play and I decided to make the leap.
I had, by contract, to give WLS 13 weeks notice and the GM held me to it.
When my plane landed back in Los Angeles, John Records Lander was at the gate to greet me on my return to LA. He had flown the red-eye the night before to make the amazing surprise happen.
We partied hardy that weekend. And I was back where I fit much more comfortably.