Most people familiar with KVIL (103.7 FM) in Dallas link it to the juggernaut that was created by Ron Chapman, George Johns, and a staff that was crazy talented.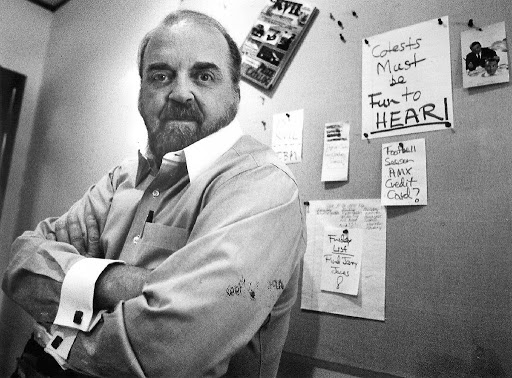 It was a force to be dealt with. Chapman had cut his chops with Gordon McLendon and was the original Irving Harrigan on KLIF when The Mighty 1190 unleashed "The First Team" morning show, Murphy and Harrigan.
KVIL came to dominate Dallas and Ft. Worth and we all saw their signature super-sized billboards.
But KVIL didn't start that way. It first signed on as a 1,000 watt AM daytimer on 1150. It had a 6-tower highly directional signal. Some stories said the pattern was so tight, it didn't go west to Ft. Worth, but squeezed the pencil thin signal to Shreveport.
I read about this station about to hit the air and set my alarm so I could hear it sign on for the first time. I tuned to KLIF (1190), then just slowly scanned down until I found the carrier on 1150 and waited for the big reveal.
Gordon Vaughn had been chief engineer at KBOX and I thought the processing on K-BOX was excellent. Vaughn had been brought in to build KVIL from the ground up. So I was eager to hear what he crafted with brand new Collins equipment.
Dillard Carrera had been Program Director at KIXL and was grabbed by KVIL to create a new, brighter adult station. (I loved the font of the call letters. They even had typewriters than could include the logo in the same graphic style.)
KVIL had pre-sunrise authorization, meaning it could sign on earlier than KIXL. In December, KIXL could not sign on until 7:30 AM. KVIL was good to go at 4AM.
When I got the courage to audition for Carrera, he might have been desperate. I was picked up for the Noon-6PM DJ shift on Sunday and did news on Saturday from 7AM-6PM. (At this point, I didn't even have a Jesuit senior class ring, but I was graduating to the AM band, baby!) In the Summer, I was usually given a 6 day a week shift. It was a little slice of Heaven to work there.
KVIL was owned by Commercial Recording Corporation (a Dallas jingle firm). That meant the station had a mountain of jingles and production tracks. Two Ampex reel to reels in the studio, 4 cart machines, 3 turntables, and a beautiful Collins board. It even had a window overlooking a golf course so you could actually see the weather. It was located in the ritzy Highland Park neighborhood of Dallas on the second floor over a dental office.
Pictures of the AM studio are almost impossible to find, but Mary "Sam" Stoddard loaned me one from her file. "Sam" was the first female DJ in Texas and is in The Texas Radio Hall of Fame. (I introduced her to the guy who would become her husband, so I guess she felt she owed me the loan of a photo.)
Of course, now I was playing all kinds of music on 45's and LP's. One of my original goals was to get through an entire shift and play all the records at the right speed!
John Swaney was my newsman on Sundays. He would later go on to anchor news at KFWB in LA.
By the time I joined the station, KVIL-FM was also on the air. It was a custom built studio put together by Vaughn.
I wasn't sure that I would ever leave Dallas. Big D was a great place to live and I thought the radio in town was top flight.
Ron Chapman told me years later that as many of us moved on to bigger markets, he just stayed in Dallas and let it grow up around him. Turned out to be a great decision for Ron.
I stayed with KVIL through the Summer following my graduation from Jesuit. It was then that two roads diverged in a yellow wood and I chose the one less traveled by.