Music has always been a part of my life. My parents had a Stromberg Carlson unit. The right side was the radio and the left was a record player.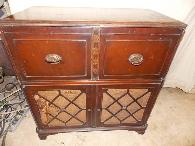 I remember riding my tricycle across the wooden living room floor as the music played. Then it stopped and a man started talking. " Where is the man?" Mom explained that the man was playing records from another place and that we could hear him and the music. It was called "radio." The seed of curiosity was planted.
Later, when I was in grade school, I would be given a radio for Christmas. I kept it in the headboard of my bed. Nights were the best. I could dial in radio stations from far away. I especially remember listening to KOMA in Oklahoma City and WLS from Chicago in my room in Dallas.
Of course, I loved the local stations too. KLIF and KBOX played rock and roll and I hung on every word of the disc jockeys. As a grade school kid, I liked KBOX better. It seemed louder, more crisp, and the pace was faster than KLIF. When Dad would drive me to school, we would listen to KBOX and the morning DJ would announce his version of the Dallas public school lunch menu for the day. He was funny and made the food offering sound as bad as it probably was. That DJ was Dan Ingram.
My fascination with radio was growing. I decided I needed to see how these people made this magic. So, I called KBOX and asked if they gave tours. They did. So, Mom drove me over to 9900 McCree Road, near White Rock Lake, and as we rounded the corner, I looked up the hill. There it was. KBOX in "Radio Park." Four towers just behind the building.
It was not a really big building. One studio, one production room. I didn't get in to the control room. It was good enough to look through the window in the production studio and watch Chuck Benson (later at WIND, Chicago) rockin' the hits. Four turntables and a control board. Benson was in non-stop motion. Yes, I got to see one of the magicians at work.
There was a tall man, wearing a suit and tie in the studio with me. I was introduced to…Dan Ingram.
Well, that was it. This was all I wanted to do from that day forward. Of course, my odds of making it on air were pretty slim. After all, I was in grade school, couldn't drive a car, and my voice was still that of a little kid. It didn't matter. In my mind, it was a done deal.
KBOX had a great line up. Al Lohman and Roger Barkley worked there, but not yet as a team. Johnny Borders (aka Johnny Dark) was on staff. By the time I was older, Jimmy Kaye (Jim MacKrell), Danny Preston (Jerry Goodwin) and Gary Mack passed through KBOX. At one point, Chuck Dunaway was Program Director and made me a K-BOX correspondent and I got to announce school news during one hour on a Sunday night.
So, while I waited for my age to catch up to my dreams, I decided to start my own "radio station." I found a transmitter in the Allied Electronics catalog. You had to assemble it yourself. It would pump out 3 big watts of power. I saved my money and waited for the package to arrive. It was a beauty.
So, my bedroom became a studio. I had a microphone, a record player and a tape recorder and I was…"on the air." I would call the neighbor kids when it was time to sign on. The blow torch signal covered a few blocks. I was learning to be a magician while still in grade school.
During this time, I began calling disc jockeys and visiting as many stations as I could. Every one of the DJs had great stories and I was getting a free education from the magicians themselves.
What happened next is when the dream began to have wings.